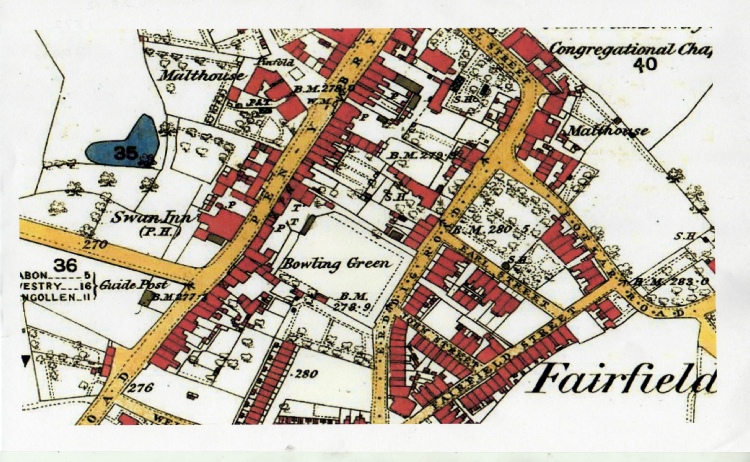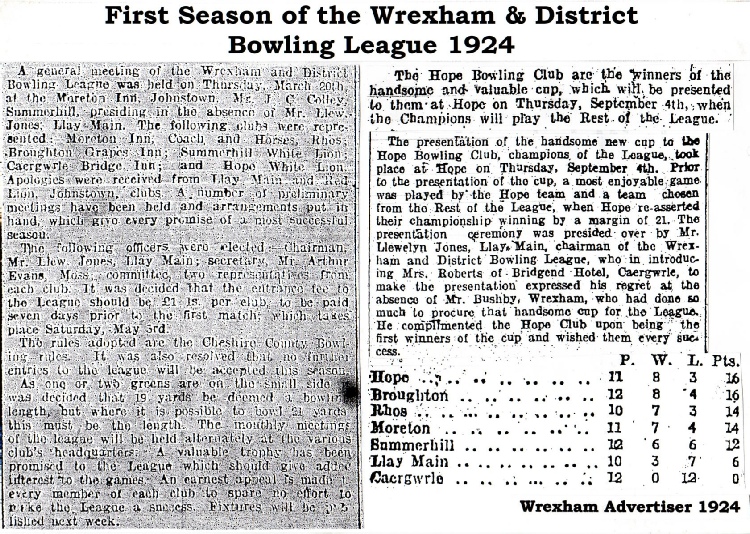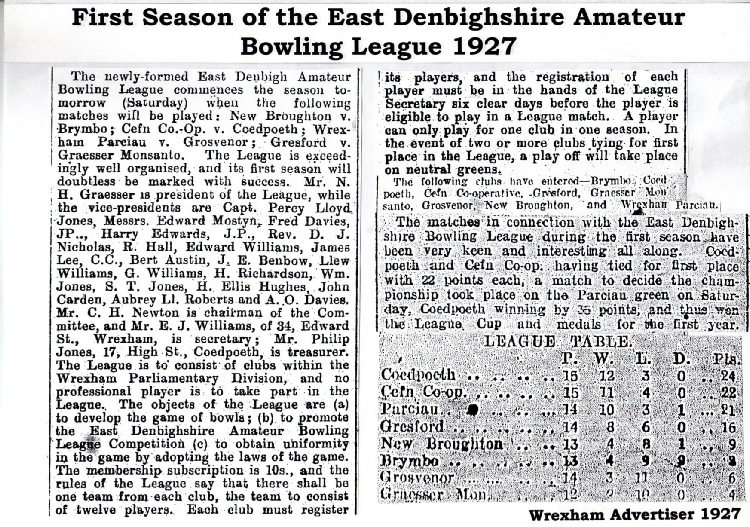 Origins and Statistics
The Oldest Bowling Green in Wrexham?
The first reference of there being a bowling green in Wrexham was detailed in "A History of the Town and Parish of Wrexham" by Alfred Neobard Palmer which was published in 1893. It stated that "On Pen y bryn next to the Red House were, and still are, the Bowling Green, and annexed to it the Bowling Green Inn. The first time that I find the Bowling Green mentioned on this site is in the year 1698"
It is not known whether the Bowling Green was "flat" or "crown". The map below illustrates that the bowling green was still in existence in 1874 and the tankard was won in 1879 by Newton Fisk at the annual Penybryn Bowling Club Competiton. Many thanks go to Rhys Hopwood for the tankard photograph.
However, by 1899 it was replaced by a row of terraced houses known as Colemere Street.
There were also bowling greens in Wrexham in 1833 at the rear of The Fleece Inn, 22 Hope St, (where Thomas Cook Travel Agents are now situated) and The White Lion, Mount Street (both pubs now long gone!). Source 1833 Survey
Possible Early Influences?
Anecdotal evidence suggests that the influx of coal miners from the North and the Midlands and the Shrewsbury and Chester railway (which was completed in 1846) accentuated the interest and growth of Crown Green Bowling in the area. The coal miners and the railway would have connected the town with other areas of the country where the sport was already established.
Crown Green Bowling Clubs in Existence from 1913 Onwards
The information below was unearthed by the Gate Hangs High Bowling Club (formerly known as the Acton Bowling Club). An Acton Bowling Club minute book has been found which covered the period June 11th 1913 – February 26th 1925.
"In 1913 games were played against Gresford Bowling Club, Royal Oak Ponkey, Ruabon Constitutional and the Turf." "During 1914 an invitation from the Royal Oak Ponkey (Ponciau) was received to join in the formation of Wrexham & District Bowling League. It was declined for that year."

Further clubs mentioned were 1914 Johnstown 1916 Green Dragon 1917 Buckley, Ponciau Bowling Club 1920 Padeswood, Hawarden, Hoole 1921 Overton 1922 Wrexham, Grapes Moss 1923 Red Lion Club 1924 Liverpool, Malpas, Gyfelia, Moreton, Hoole, Llangollen, Mold, Rhosymedre.
Bowlers will find a splendid green at the Wynnstay Hotel, also in Wynnstay Park (James' Lodge), a fine green, laid out by Sir Watkin for the use of the members of the Constitutional Club. There are also Crown Greens at The Bowling Green Inn at Rhosymedre and Cefn Co-operative. Source - Ruabon Guide 1925.
The Origins of Organised Crown Green Bowling in the Wrexham Area
Wrexham and District League
In 1924 the Wrexham and District League was formed. This consisted mainly of public houses with a bowling green attached. The League adopted the Cheshire County Bowling Rules and one or two of the greens were on the small side. None of the bowling greens of the founder members of this League exist today. Many are now public house car parks.
East Denbighshire Amateur Bowling League
In 1927 the East Denbighshire Amateur Bowling League was formed. The league consisted of clubs within the Wrexham Parliamentary Division and no professional players were allowed to compete. More is known of this League as Esclusham Bowling Club became part of it in 1933. The League was known as the East Denbighshire Amateur Bowling League from 1927 – 1974, the Wrexham Maelor Bowling League from 1975 – 1984 and as the Wrexham & District Bowling League from 1984 to the present day. The top division is now called the Wrexham Premier League.
It is clear from old newspaper articles that these two leagues co-existed together for many years and at some point may have merged or one became defunct?
Before the formation of the above leagues many of the teams played friendly matches against each other.
Lost crown bowling greens and teams that used to play in the various leagues in existence in Wrexham and the surrounding area
Greens in existence from 1913 onwards
Ponciau - Royal Oak (1913)
Turf - The Turf (1913)
Ruabon - Constitutional Club (1913)
Wrexham - Green Dragon (1916)
Overton - (1921)
Gyfelia - The Waggoner's Inn (1924)
Rhosymedre - The Bowling Green Inn (1924)
Original Wrexham & District League 1924 - ?
Bowling greens were in existence at the following public houses in 1924:-
Johnstown - Moreton Inn
Rhos - Coach and Horses
Broughton - Grapes Inn
Summerhill - White Lion
Caergwrle - Bridge Inn
Hope - White Lion
Llay - Llay Main
The following teams also used to play in the above league in the 1930's:-
Johnstown - Red Lion Inn
Gyfelia - The Waggoner's Inn – Now somebody's back garden!
Rossett – Nag's Head
Llay - Crown Inn
Coed Talon MW – Played in the 1934/35 seasons but was it at the same green as now or was there a public house involved? "It was known as the 'Black Diamond' Club" - (Keith Bell)
Other long lost bowling greens include:
Pen y Nant – Minera OAP Home
The Red Lion – Marchwiel
The Red Lion – Hope
The Travellers – Hightown
The Holly Bush – Cefn y Bedd
Clubs that used to play in the Wrexham League - Also known as East Denbighshire 1927 – 1974, Wrexham Maelor 1975 – 1983, Wrexham & District 1984 – onwards : -
New Broughton – Founder members in 1927 – where did they play?
Cefn Co-op – (1927 – 1949) – where did they play and was the Club reborn as Plaskynaston?
Acton – (1931 – 1959) -Became the Gate Hangs High in 1960 (have they always played at the Gate?)
Broughton – 1933 - Where did they play and is the green still in use today?
Broughton MW – 1936 - Where did they play and is the green still in use today?
Wrexham Corporation – (1938 – 1940) - Where did they play and is the green still in use today?
Rhostyllen – 1942 - In league the same time as Esclusham (was this the old Rhostyllen Legion which was situated where the football pitch is now ,next to the Vicarage and did they use Esclusham's green?)
Wrexham Co-op – (1945 – 1947) - Where did they play and is the green still in use today?
Summerhill – (1952 – 1970) - Played at White Lion Pub – Demolished in 1970
Black Park - (1967 – 1978/9?) - Where did they play and is the green still in use today?
Summerhill Social Club - (1971 -1974) – New green was badly laid. Hence early demise
Summerhill White Lion - (1971 - 1973) – New green was badly laid. Hence early demise
BICC - (1977 – 1995) – now an expanse of grass outside of the Social Club
Turf - (1929 - 1977) - Reformed as Gresford Colliery in 1978 – The Turf green is now a car park opposite the Turf Pub on Mold Road, Wrexham
Rubery Owen - (1973 – 1978/79?) - "Was situated where Whitegate Industrial Estate is now - just off Queensway". EJ (Feb 2011).
Allied Breweries - (1978 only) – Was this the old Wrexham Lager green and where did they play and is the green still in use today?
Wrexham Lager - (1979/80 – 2002) – "The green has now been replaced by housing. EJ (April 2020).
Queensway - (1986 – 1989) - What happened to this green?
Criftins - (1987 – 1996)
Corwen - (1990 – 2008)
Rossett - (1992 – 2000) - "Rossett played at the Nag's Head. The green has now been replaced by housing. Rossett moved to Llay no.2 green". EJ (April 2020).
Penycae - (1993 – 1998) – What happened to this green?
Overton - (1994 – 1999) – Is the green still at the same location?
Northop Hall - (1997 – 2005)
Ifton - (2006)
Rhos - (1937 – 2007) – Now renamed as Ponciau?
Wrexham Miners - (1927 - 2008) formerly Grosvenor – Now a mosque)
Chirk and District league 1933 - ?
Black Park – Where did they play, was it at the same location as the Black Park team who played in the Wrexham League in the 1960's and 70's, and is the green still in use today?
Bronygarth - Where did they play and is the green still in use today?
St Martins - Where did they play and is the green still in use today?
Weston Rhyn - Where did they play and is the green still in use today?
Llangollen – Played at the riverside green (do they still play at the same location?)
Concluding Thoughts
If anyone has any other Club's to add to the above list or information on the Club's featured and what happened to them and their bowling greens then please email me and I will update the site accordingly. Does anyone have any old photographs of the above lost crown bowling greens?
Additionally, have any clubs moved from their original greens to new venues? i.e. Coedpoeth were founder members of the East Denbighshire Amateur Bowling League back in 1927 but they have played at two different locations prior to where the green is today. "Coedpoeth had a bowling green in the area behind the library, between it and Tabor Hill. And when the Memorial Park was laid out after the Great War there were two bowling greens there, although I only remember one of them in my lifetime. I presume the other was were the tennis courts where situated more recently" (Geraint Jones)
Wrexham Bowling League Champions 1927 – 2019
(Also known as East Denbighshire 1927 - 1974 / Wrexham Maelor 1975 - 1983 / Wrexham & District 1984 - 2003 / Wrexham Premier 2004 onwards)
1927 Coedpoeth
1928 Parciau
1929 Parciau
1930 Coedpoeth
1931 Parciau
1932 Cefn Co-op
1933 Cefn Co-op
1934 Parciau
1935 Coedpoeth
1936 Coedpoeth
1937 Parciau
1938 Parciau
1939 Esclusham
1940 Esclusham
1941 Grosvenor
1942 Parciau
1943 Esclusham
1944 Grosvenor
1945 Grosvenor
1946 Esclusham
1947 Grosvenor
1948 Grosvenor
1949 Monsanto
1950 Grosvenor
1951 Esclusham
1952 Grosvenor
1953 Monsanto
1954 Rhos
1955 Monsanto
1956 Turf
1957 Grosvenor
1958 Turf
1959 Grosvenor
1960 Rhos
1961 Grosvenor
1962 Rhos
1963 Rhos
1964 Rhos
1965 Rhos
1966 Rhos
1967 Rhos
1968 Rhos
1969 Rhos
1970 Rhos
1971 Rhos
1972 Turf
1973 Turf
1974 Rhos
1975 Rhos
1976 Rhos
1977 Rhos
1978 Gres Colliery
1979 Monsanto
1980 Rhos
1981 Gres Colliery
1982 Gres Colliery
1983 Rhos
1984 Gres Colliery
1985 Gres Colliery
1986 Gres Colliery
1987 Gres Colliery
1988 Gres Colliery
1989 Gres Colliery
1990 Esclusham
1991 Gres Colliery
1992 Gres Colliery
1993 Gres Colliery
1994 Gres Colliery
1995 Esclusham
1996 Esclusham
1997 Esclusham
1998 Esclusham
1999 Esclusham
2000 Llay Welfare
2001 Gres Colliery
2002 Gres Colliery
2003 Llay Welfare
2004 Llay Welfare
2005 Llay Welfare
2006 Esclusham
2007 Llay Welfare
2008 Llay Welfare
2009 Esclusham
2010 Llay Welfare
2011 Llay Welfare
2012 Esclusham
2013 Esclusham
2014 Esclusham
2015 Esclusham
2016 Esclusham
2017 Esclusham
2018 Cunliffe
2019 Llay Welfare
League Roll of Honour
Esclusham 19
Rhos 18
Gresford Colliery 15
Grosvenor 10
Llay Welfare 9
Parciau 7
Coedpoeth 4
Monsanto 4
Turf 4
Cunliffe 1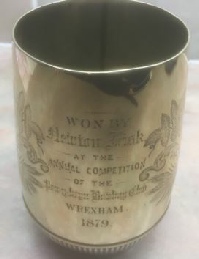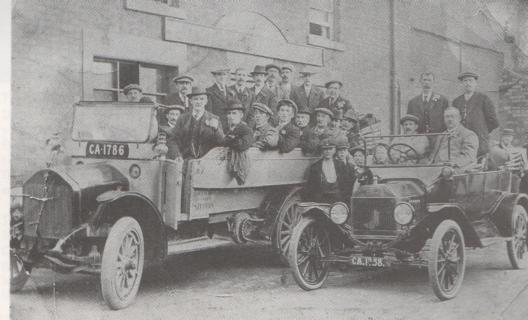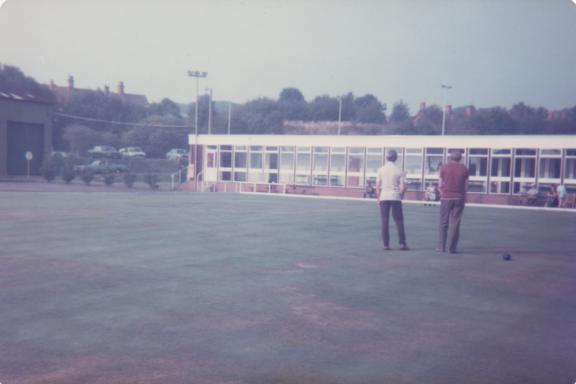 Old Crown Green Bowling Photographs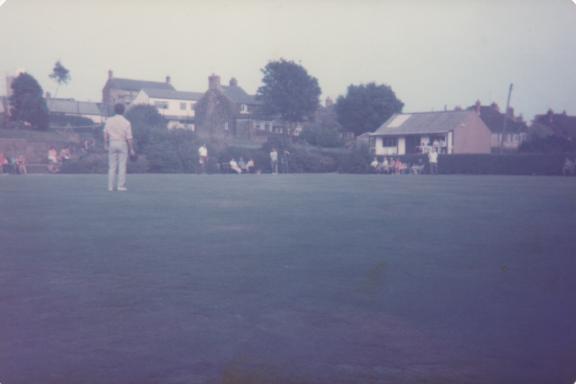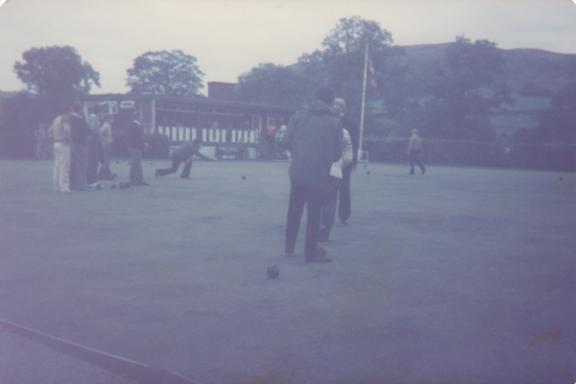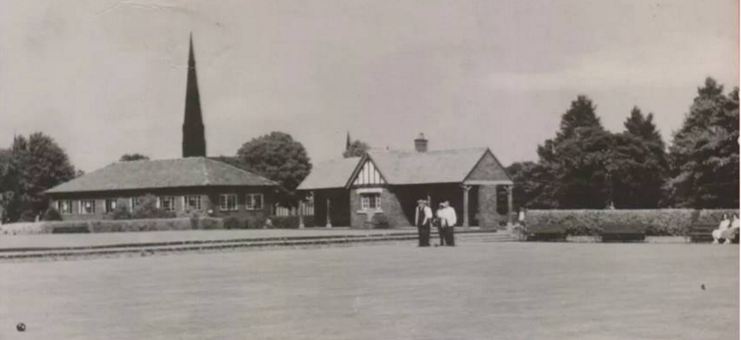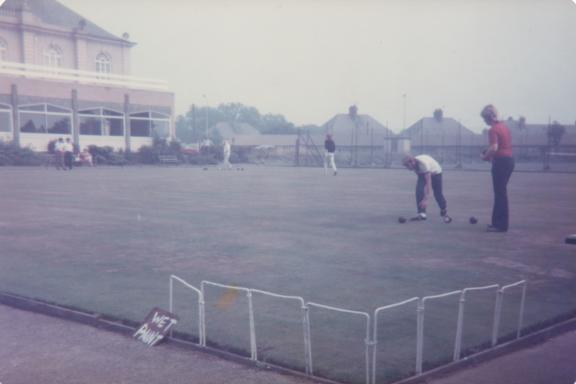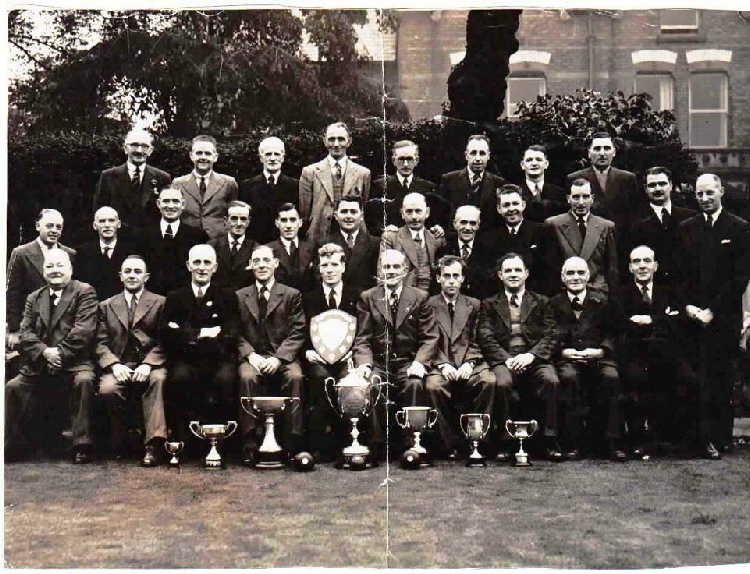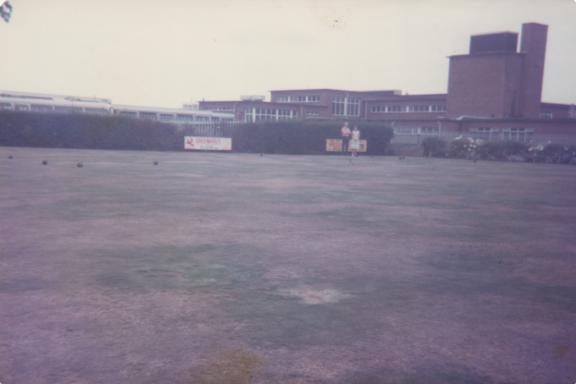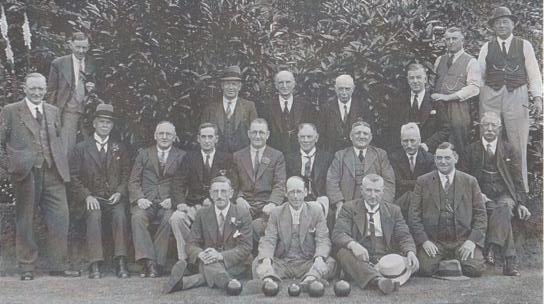 On their annual outing to Blackpool a heavy burden of responsibility rested on the shoulders of Albert Davies, the driver of the charabanc. The outward journey took two days and the return journey just as long, not that anything was wrong with the vehicle but because there were so many 'important' and necessary calls to be made en route!
Early 1980's - Coedpoeth Bowling Club
1910 - Ruabon Bowling Club
Early 1980's - Corwen Bowling Club
1961 - Parciau Bowling Club
Early 1980's - Llay Welfare Bowling Club
1950 - Grosvenor Bowling Club
Early 1980's - Gate Hangs High Bowling Club
1950 - Green Dragon Bowling Club
1912 - The Royal Oak Bowling Team, Ponciau
Early 1980's - Monsanto Bowling Club
There are four Welsh Merit Winners in this photograph: Bill Parry, Charlie Parry, Norman Williams and Ivor Parry.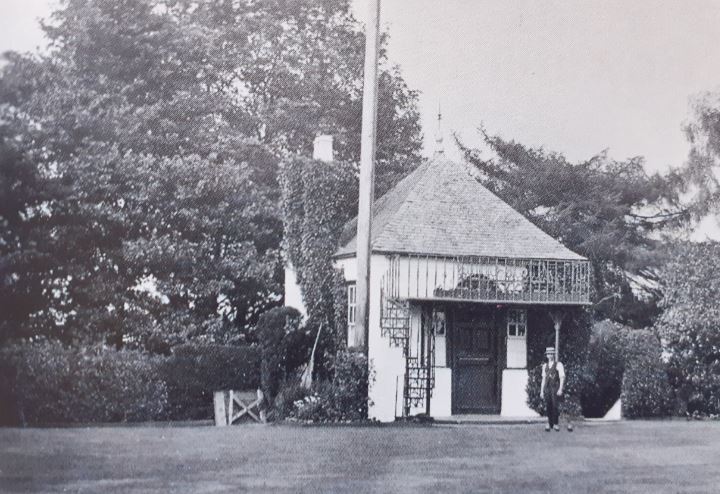 1890 - Ellesmere Pavilion (Top Green)
The History of Crown Green Bowling
Crown Green bowling is mainly played in the North and Midlands of England, North Wales, and the Isle of Man.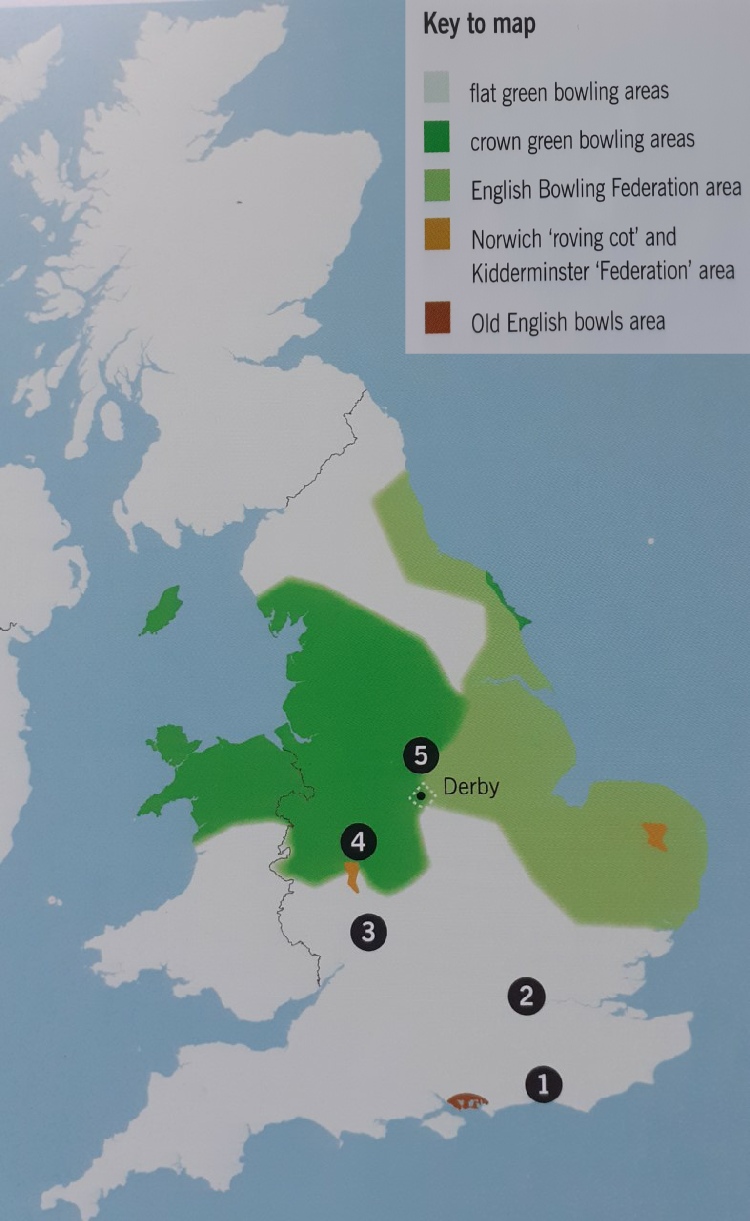 It is hard to say when crown green bowling became properly organised, but Lancashire was certainly a leading force in the 19th century. The Blackpool Sweepstakes started in 1878 and it is worth noting that in 1897 Lancashire and Cheshire combined for the first time and played Warwickshire and Worcester in a series of county games.
There were already quite a number of other associations in existence, including Cheshire, Manchester and District, Liverpool, Huddersfield, Leeds, Spen Valley, plus public parks and licensed victuallers' leagues and many others.
From 1907 the above associations and leagues were governed by the British Crown Green Bowling Association (BCGBA), which was then called the National Amateur Crown Green Bowling Association. The word 'Amateur' was dropped in 1972. This body brought together all the County associations.
The game was originally amateur only. Prize money was not allowed. Professional Players did exist, and they formed their own Professional Players Association, called the 'Panel'.
They used to play daily matches in Lancashire. The games were played to 41 and bets were made on the games. The games are still played today, but generally to 31 points, and the games are not as well supported as they used to be.
Because the Lancashire Association paid prize money, it was expelled from the parent association for not suspending players who played for money.
The Welsh Crown Green Bowling Association (WCGBA) was founded 1927 and is the national governing body for crown green bowling in Wales.
Crown Green Bowling has become more popular since the early 1970's and the number County Associations has increased from ten to sixteen. The game is spreading from its origin in Lancashire to other counties.
How crown green developed as a separate game is difficult to pinpoint, but the preferred theory is that bowling from the 15th century to the 18th century separated into two classes.
The rich and the moneyed who owned large gardens made bowling alleys on their lawns, flanked by hedges – in other words, rinks (flat green bowling).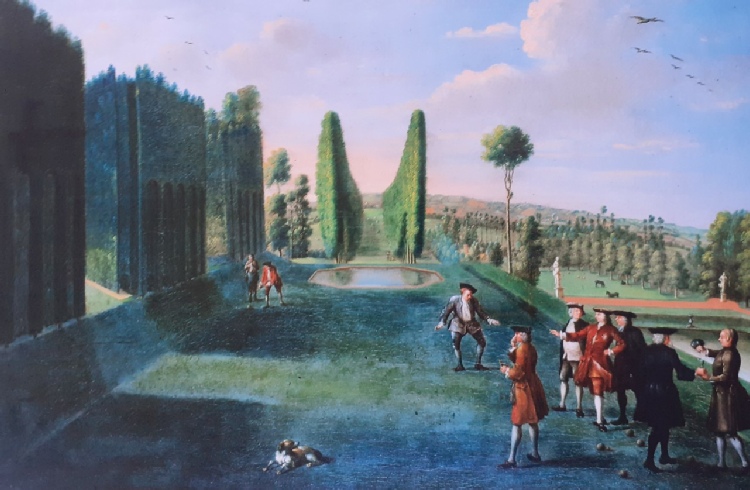 The less affluent played on common ground and parks close to inns and taverns, which were the forerunners of the crown greens built adjacent to pubs and hotels.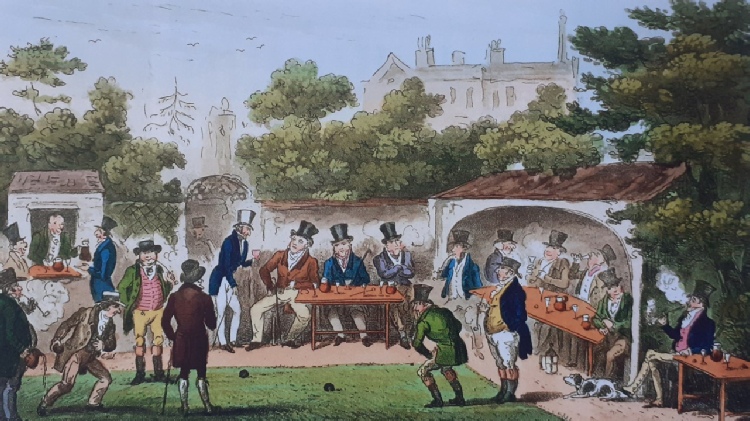 Below is a painting depicting Francis Drake bowling at Plymouth Hoe, cool as a cucumber, as the Spanish Armada approached in 1588.
In common with most legends we cannot be sure that this actually happened. Neither can we confirm that this event did not actually take place?
What it does confirm, however, is that by the time the story emerged in print, in the 1620's, bowls had become a national pastime.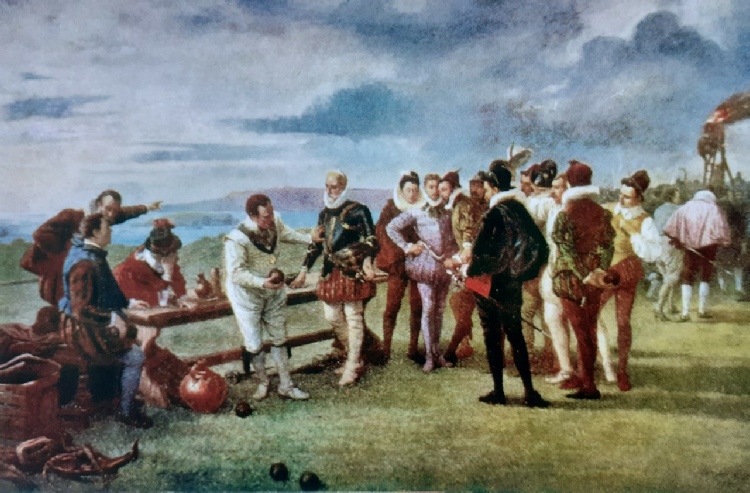 Sources used for the above article include the excellent book 'Bowled Over - The bowling greens of Britain' by Hugh Hornby and the very informative Bowls.co.uk website.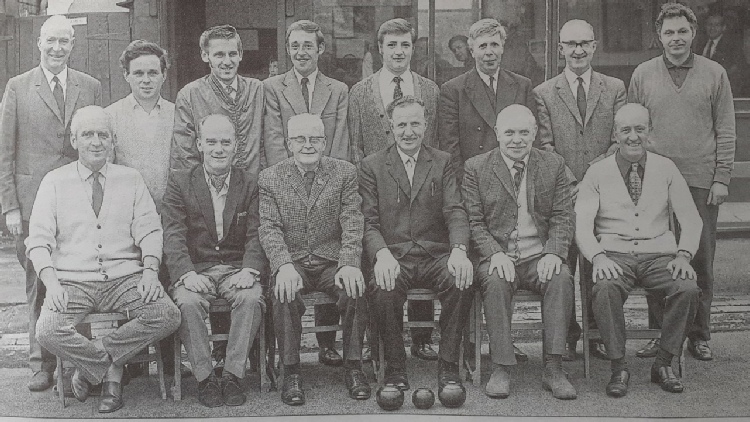 Some 'interesting' facts to finish upon…historically in the Wrexham League…..
Each player bowled their own jack when they won an end. Otherwise the opponent bowled their jack. I don't think you had to show the bias and your opponent wouldn't know the strength of the bias of your jack either, which used to vary and there were a lot of 2 1/2 and 2 1/4 biases around in those days!
You could not put the jack within 3 yards of the crown which was why there was a metal disc in the center of the green.
Another rule that was in existence was that there were two flags at each corner of the green about two or 3 yards from the corner if you placed the mat inside the flags you couldn't bowl the jack inside the flags on the other corner this at the time was to stop people bowling right on the edge of the green not sure the reason why? ... maybe to stop the green getting cut off as happens now ?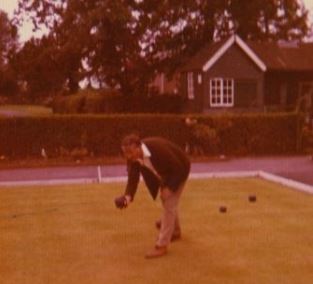 Note the flag just above the hand of Ron Jones. This photograph was taken in the 1970's